2019 Make Music New York Special Projects
Friday, June 21st
---
Leon & the Peoples: Live in Union Square Park
South Steps of Union Square Park
6-7pm

Spectra Music recording artists Leon & The Peoples, one of NYC's hottest rising bands, has developed their signature Soul/Reggae/Pop sound while performing nationwide and building a loyal fan base for the last 10 years. The multitalented performer, singer-songwriter, actor & producer Leon passionately leads the band with his smooth, sultry vocals and heart felt lyrics, while The Peoples features top-notch musical talent from across the globe. The unique creation results in high energy live performances and a commitment to bringing their blend Soul & Reggae music to a world wide audience.
As an actor, Leon has starred in over 30 movies and was voted as one of the Sexiest Actors of all time by AOL. Received NAACP "Best Actor" nominations portraying the late great David Ruffin in the NBC hit movie "The Temptations" and as Little Richard in the authorized bio pic "Little Richard." He also starred in the #1 voted African American film in the last 25 years voted by AOL, "The Five Heartbeats". Other notable movies include, the lead role in the international Disney blockbuster Cool Runnings, Above The Rim, Waiting to Exhale, HBO's OZ and in 2018, CBS Blue Bloods and nominated "Her Only Choice" TV movie. Leon & The Peoples were the cover stories of Music Insider Magazine and The Channel Magazine.
---
The Heart Chant
The Oculus, 33-69 Vesey Street, World Trade Center
12-3pm
The Heart Chant is a participatory Deep Listening® meditation, an offering of sonic healing for all beings through vocalization and listening. Written by Pauline Oliveros in 2001, the work's simple instructions invite any and all to participate in creating community through sound; no musical training is required. Participants gather in a circle, putting one hand on their heart and the other on the person in front of them, and chant rhythmic tones. A core group of performers can be joined by spectators at any point in the program and escorts are on hand to help direct them in joining the circle.
---
Immigrant Dream
Diversity Plaza, 37th Road at 73rd Street, Jackson Heights
5-7pm
Based in Jackson Heights, Queens, Percussia plays music that's as eclectic as the neighborhood it calls home, performing a mash-up of classical, modern, popular and world music style to local communities in informal settings. In this very special collabataion with Make Music New York, the ensemble — Ingrid Gordon & Frank Cassara, percussion; Susan Jolles, harp; Margaret Lancaster, flute; Lev 'Ljova' Zhurbin, viola; and Victoria DeVaney, spoken word — has curated and commissioned a very special lineup of site-specific works for Diversity Plaza that pay homage to the community's immigrant population and the adjacent #7 subway line:
"International Express," by composer Quentin Chiappetta, is a multiphase project that pays homage to the #7 train that runs through Queens, with each movement in the work representing a stop on the line. This concert features the world premiere "Junction Blvd." in tribute to the extension of the already existing 74th St. and 90th St. stops.
"Immigrant Dream," by Mexican-American composer Carlo Nicolau, pays homage to the sounds of the harp and marimba music of Chiapas and Veracruz. The piece tells the story of the journey endured by Mexican and Central American immigrants who leave their torn-apart home countries to live in NYC and achieve a dream — an immigrant dream.
"From New York with

❤

," by Wang Jie, also pays homage to the MTA, by featuring the characteristic startup sounds made by the R-142A subway car, which coincidentally comprise the melodic theme from the song "Maria" in West Side Story.
Actor-writer Victoria DeVaney will round out the program with her spoken word monologue about the MTA, "View from the Cheap Seats."
All of this takes place outdoors at Jackson Heights' newly renovated community hub, Diversity Plaza, which is within earshot of the #7 train. Greeting commuters on their way home from work, this concert is the perfect way to ring in the first day of summer.
Presented with special thanks to Ingrid Gordon of Percussia and in partnership with Friends of Diversity Plaza, a coalition of neighborhood organizers and activists formed with the mission of protecting and promoting Diversity Plaza in its infancy, and to help make it an accessible and welcoming space for the entire community, where "One city block holds the world."
This program is supported, in part, by public funds from the New York City Department of Cultural Affairs, in partnership with the City Council. Additional funding is made possible by the New York State Council on the Arts with the support of Governor Andrew M. Cuomo and the New York State Legislature, by the Music Performance Trust Fund, and by the generous contributions of individual donors.
---
Joe's Pub Block Party
Astor Place Plaza, West Village/NoHo
1-7pm
In the spirit of inclusiveness, this summer's Joe's Pub Block Party remains dedicated to voices from within the NYC artistic community who represent indigenous, immigrant, and international voices, and will feature six artists that contribute to our city's vibrancy. Presented by Joe's Pub in partnership with the The Village Alliance.
1pm Martha Redbone
2pm Trio 4-5-6
3pm Lauren Henderson
4pm Gabe Schnider
5pm The Edge of Heaven featuring Gary Lucas, Feifei Yang & Jason Candler
6pm AJOYO
---
Local 802 presents:
Rolando Morales-Matos, Wilson Torres and Raphael Torn
Caribbean Cultural Center African Diaspora Institute
120 E 125th Street, East Harlem
3:00-4:00pm
Three Broadway masters of percussion will perform classic songs from the Latin songbook. Bring along your own handheld percussion instrument – from clave to güiro to timbale – to play along!
Born and raised in San Juan, Puerto Rico, Rolando Morales-Matos is a sought-after Latin, Jazz and Classical percussionist. He is band leader, vibraphonist and composer of the Latin Jazz group Rolando Morales-Matos & Forward; has toured worldwide, performing at major jazz festivals and venues as a member of Ron Carter Foursight Quartet, as well as appearing with artists such as Paquito D'Rivera, Dave Samuels, Dave Valentine, Willie Colon, and William Cepeda; and has recorded with numerous artists, including Ron Carter, Celine Dion, Michael Bolton and Birdland Big Band.
Since 1997, he has been the Percussionist and Assistant Conductor of the Tony Award- winning Broadway musical "The Lion King." In 2006, he was named Drum Magazine's "World Beat Percussionist of the Year." During his career, Rolando has developed unique vocabularies of playing melodies on non-pitched instruments and his published works include Techniques and Basic Patterns for Congas, Timbales, and Bongos. He is a faculty member at Curtis Institute of Music, Temple University, The New School for Jazz and Contemporary Music, New Jersey City University and gives clinics and master classes at many universities and conservatories including the Percussive Arts Society International Convention.
Wilson R. Torres is a New York native born and raised in Washington Heights, where his musical journey took root at the young age of two.  His Broadway credits include the Tony­– and Grammy Award–winning musical "In the Heights", "Les Miseěrables" (25th anniversary revival), "Lysistrata Jones", "The Wiz" (Encores), "On Your Toes" (Encores) and "Cabin in the Sky" (Encores). His tours include "Lion King" (1st National), "Lion King" (Cheetah) and "Wicked" (1st National). Additional orchestral credits include San Francisco Symphony, New Jersey Symphony, Staten Island Symphony and Albany Symphony.
Raphael Torn is a New York-based percussionist specializing in world music. He has been featured in productions of the hit musical Disney's The Lion King in Las Vegas, Shanghai and NYC. He toured the world for several years with Cirque du Soleil and also performs regularly with the Grammy Award-winning Afro-Latin Jazz Orchestra led by Arturo O'Farrill.
All musicians appear in a special partnership with Local 802.
---
Moondog on the Streets
Moondog's Corner, SE Corner at Sixth Avenue & 54th Street
6-7:40pm
Join us for a very special performance in celebration of the 20th anniversary of the passing of American-born avant-garde composer and "street musician" Louis Thomas Hardin, aka Moondog, featuring acoustic performances by Moondog specialists .
Beginning in 1949 and for nearly twenty-five years, the man who was quickly nicknamed the Viking of 6th Avenue – due to his personal connection to Manhattan and his extravagant look – accompanied the daily life of New Yorkers by playing his music in the streets on percussive instruments of his own making. Seventy years later, our trio, outfitting with a singular instrumentarium designed for this occasion, will pay tribute to the street music imagined by one of the first Dharma Bums.
A musical creation by Murailles Music, L'Usine Cnarep de Tournefeuille, the Studio d'en Haut and the Ville de Toulouse.
And don't miss these additional Moondog programs:
June 22nd • Prospect Park, Brooklyn, NYC, details TBA
June 22nd • Le Barbès, 376 9th St, Brooklyn at 8 pm
June 23rd • Spectrum Gallery, 70 Flushing Ave, Garage A, Brooklyn at 7pm
---
Music in the Oak Grove
Silver Towers, 100 Bleecker Street btwn LaGuardia Place & Mercer Street
5pm-8pm
NYU Faculty Housing Happenings include a per season public offering designed to celebrate our outdoor spaces on the superblocks headlined by the Oak Grove. Recommended by the Superblock Stewardship Advisory Committee, these community events are generously supported by Provost Katherine E. Fleming and organized by Erin Donnelly, Community Liaison, Office of Faculty Housing & Residential Services, who has been orchestrating events, arts and cultural programming for nearly two decades.
This season's summer sosltice lineup includes family-friendly performances by:
Billy Newman Quintet
As a leading exponent of the music of Brazil, Billy Newman along with his Quintet offers a panoramic glimpse into Brazilian musical repertoire through the deep-rooted harmonic and rhythmic language of Samba, Jazz, and Choro, highlighting its parallels with jazz improvisation. Featuring Billy Newman (acoustic guitar), Ben Holmes (trumpet), Michael Attias (alto saxophone), Leco Reis (acoustic bass), Scott Neumann (drums).
Dan Levinson's Palomar Jazz Band featuring Molly Ryan
Fronted by world-class reedman Dan Levinson and featuring the enchanting vocalist Molly Ryan, the Palomar Jazz Band brings together the cream of New York City's flourishing hot jazz scene to blend hot, stomping 1920s jazz with the classy elegance of the 1930s. Put on your dancing shoes as this performance is swing dance-friendly! Featuring Mike Davis (trumpet), Jim Fryer (trombone), Dan Levinson (clarinet/tenor sax), Art Bailey (piano), Tal Ronen (bass), Kevin Dorn (drums), Molly Ryan (vocals).
---
On the Waterfront
Pier I, Riverside Park at Hudson River off W 70th Street
4:30-7pm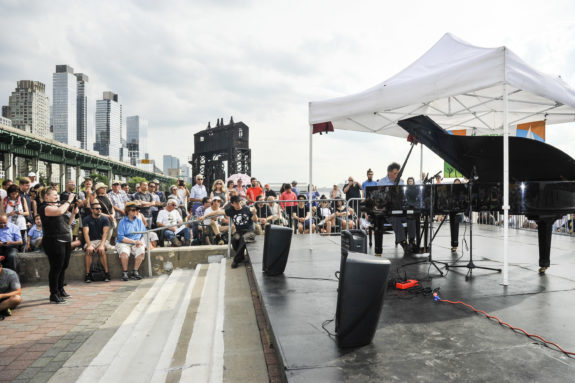 2019's version of "On the Waterfront" will feature highlights of American four-hand piano compositions as played by young students and professionals. Presented in partnership with Summer on the Hudson and generously supported by PianoPiano.
Special thanks to Joan Forsyth and Mira Gill of Third Street Music School Settlement; and Emily White of Kaufman Music Center; and Lora Tchekeratova of Mannes Prep.
Presented in partnership with Summer on the Hudson and generously supported by PianoPiano.
---
The Mp3 Experiment Number Sixteen
Prospect Park's North Long Meadow
8:30-9:15pm

Mp3 Experiments, produced by Improv Everywhere, are free, open-to-the-public, participatory audio adventures where attendees download a smart phone app and listen to synchronized secret instructions via headphones in a public space. Hilarity ensues as participants carry out coordinated, often ridiculous instructions. Over fourteen years, the events, attended by diverse crowds and appropriate for all ages, have become a NYC institution and have attracted millions of views on YouTube.
In a special encore collaboration with Make Music New York, Improv Everywhere will debut a new interactive experience created by Charlie Todd and Tyler Walker to be performed by thousands of participants. Park goers and passersby will be taken by surprise as a new experience is created before their eyes!
For more details and to sign up to participate visit: ImprovEverywhere.com
Presented in partnership with Prospect Park Alliance, the non-profit organization that sustains Brooklyn's Backyard.
---
Water Night
Gowanus Dredgers Boathouse, 125-153 2nd Street
8-9pm
Join us for a very special performance of Grammy Award-winning composer Eric Whitacre's "Water Night." With lyrics inspired by the poetry of Octavio Paz, the choral piece, written for soprano, alto, tenor and bass, will be performed by thirty vocalists from canoes provided by the Gowanus Dredgers Canoe Club as the musical flotilla makes its way up Brooklyn's Gowanus Canal at sunset.
To listen from the shore, no reservations required, the best shoreline seating is available between Carroll Street and 2nd St. Restrooms are available at the Whole Foods parking lot at 3rd St., which also has an esplanade with limited seating.